PAFA also have a facebook page. 'Billesdon School PAFA'. Please join to be kept informed of all events and fundraising initiatives.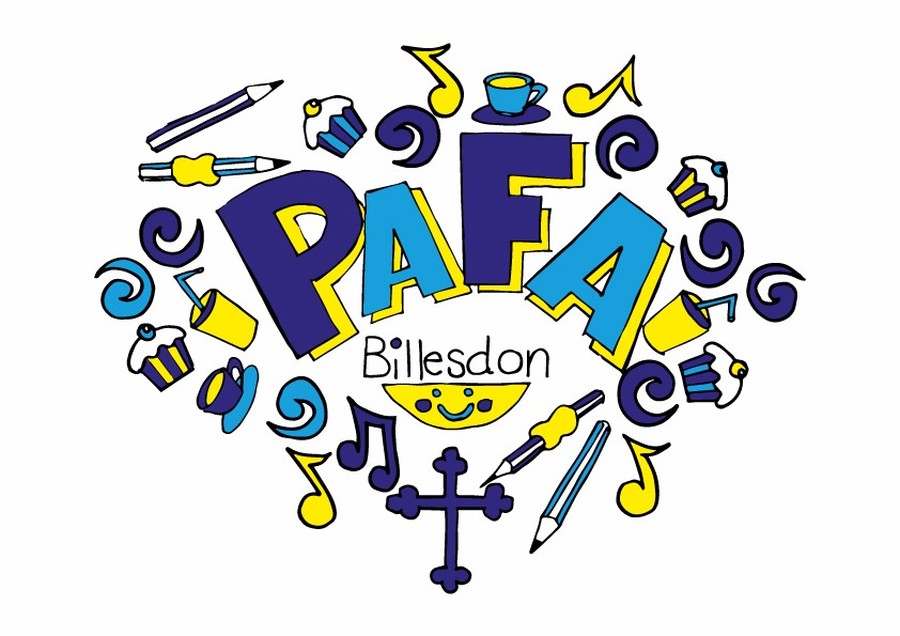 PAFA Logo designed by Lydia Whatton
We are currently in the process of updating the links on our latest PAFA Page. Please contact the School Office if you need any further information.
WELCOME TO THE PAFA PAGE
Welcome to our PAFA page. Here you will find information on the Committee, Class Representatives, events, minutes from the meetings and our fundraising projects
WHAT IS PAFA?
PAFA is the Parents and Friends of Billesdon Primary School Association.
We're a registered charity who seek to raise funds to improve and enhance the school for our children and strengthen the relationship within our community.
Any parent, carer or person closely connected with a child attending Billesdon Church of England Primary School or anyone closely connected with the school itself, can be a member of PAFA. There is no need to register your interest or formally confirm you wish to be a member. As a parent or carer you are automatically entitled to any information, events or activities by PAFA. There is no pressure to be involved though of course we are very grateful for any support big or small
If you'd like to be involved with PAFA please don't hesitate to contact us at billesdonpafa@gmail.com.
We are always happy to speak with anyone about PAFA related so please don't hesitate to contact us.
For any school related issues please contact the school directly or the Parent Governors.
WHAT DO PAFA DO?
We organise and assist in a range of activities to help raise funds for the school.
PAFA fundraising helps to contribute towards Class Enrichments, Pantomime trips, equipment for the school and pupils, larger school projects and many other things.
HOW CAN YOU GET INVOLVED?
There are lots of ways you can get involved and help support PAFA.
Attending one of the PAFA meetings or offering to help is the best way. Any help offered is absolutely invaluable to PAFA. We know it's not possible for everyone to always attend and even if it's not on a regular basis or you can't actually physical attend events or meetings there's so many things that can be done from home if you're able to spare a little time. The work that goes on behind the scenes is so important to making any of our events a success and thereby raising more funds for the school.
You can also help by sharing information on events or if you have any contacts or skills that could assist the Committee to share these with the Committee. We are extremely grateful for any support in whatever way is possible.
It's possible to help raise money for PAFA by being customers or ordering through specific sites and companies. For more information see the "OTHER PAFA INFORMATION" section below or visit our Facebook group.
The Committee always welcome ideas, suggestions and feedback and you can contact the Committee either through your Class Representative, the Facebook group, twitter account, by email or speaking with one of us at the school.
THE PAFA COMMITTEE
The Committee is made up of Trustees and members who meet regularly to discuss all issues concerning PAFA, finances and fundraising events. Meetings are usually held on the first Friday of each month during term time. Occasionally, when there is a larger event additional meetings will also be held.
TRUSTEES
The PAFA Committee currently consists of five Trustees: Chair, Vice Chair, Secretary, Treasurer and Marketing & Communications Trustee. Trustees are responsible for managing PAFA and the Charity responsibilities. They liaise with the school to find the best ways to help contribute towards what the school would like or need.
The 2019 – 2020 Trustees are: -
CHAIR Vicky Watts
VICE CHAIR Mrs Louise Cook
SECRETARY Sunny Sandhu
TREASURER Nicki Lambourne
MARKETING & COMMUNICATIONS Cate Weetman
CLASS REPRESENTATIVES
Each year group has a Class Representative and we've found their support has been invaluable not only to PAFA but to the school and parents.
The responsibilities of the Class Representatives are to:-
Act as a point of liaison between the school, parents, and PAFA.

help establish and maintain effective communication between parents / helpers

help organize ad hoc assistance for Class Teaching staff, should they require additional resource and / or support

facilitate the social interaction among families in the school community.
PAFA MEETINGS & EVENTS
Please check out the Facebook group or twitter account for more information. Any changes will be confirmed through our social media pages and the Class Representatives.
PAFA ANNUAL GENERAL MEETING, EXTAORDINARY GENERAL MEETING MINUTES
Extraordinary General Meeting Minutes (link)
Annual General Meeting Minutes (link)
PAFA ANNUAL FINANCIAL SUMMARIES
PAFA Annual Financial Summaries (link)
OTHER PAFA INFORMATION
PAFA Constitution (link)
Official Copy of Original PAFA Constitution (link)
Stikins Labels Information (link)
Easyfunding Information (link)
Donations from Cate Weetman for New Customers referred by PAFA Information (link)
PARENTKIND
PAFA is a member of Parentkind (formerly PTA-UK) which is a national charity and one of the leading membership organisations for Parent and Teacher Associations in the UK. We pay an annual membership fee. The membership provides us with lots of Parent Teacher Association support, tips and advice together with other benefits which also includes comprehensive insurance to cover all our PAFA run events.
PARENT VIEW
Link to Ofsted Parent View (link)
CONTACT US
Facebook: www.facebook.com/groups/billesdonpafa
Twitter: www.twitter.com/billesdonpafa
Email: billesdonpafa@gmail.com