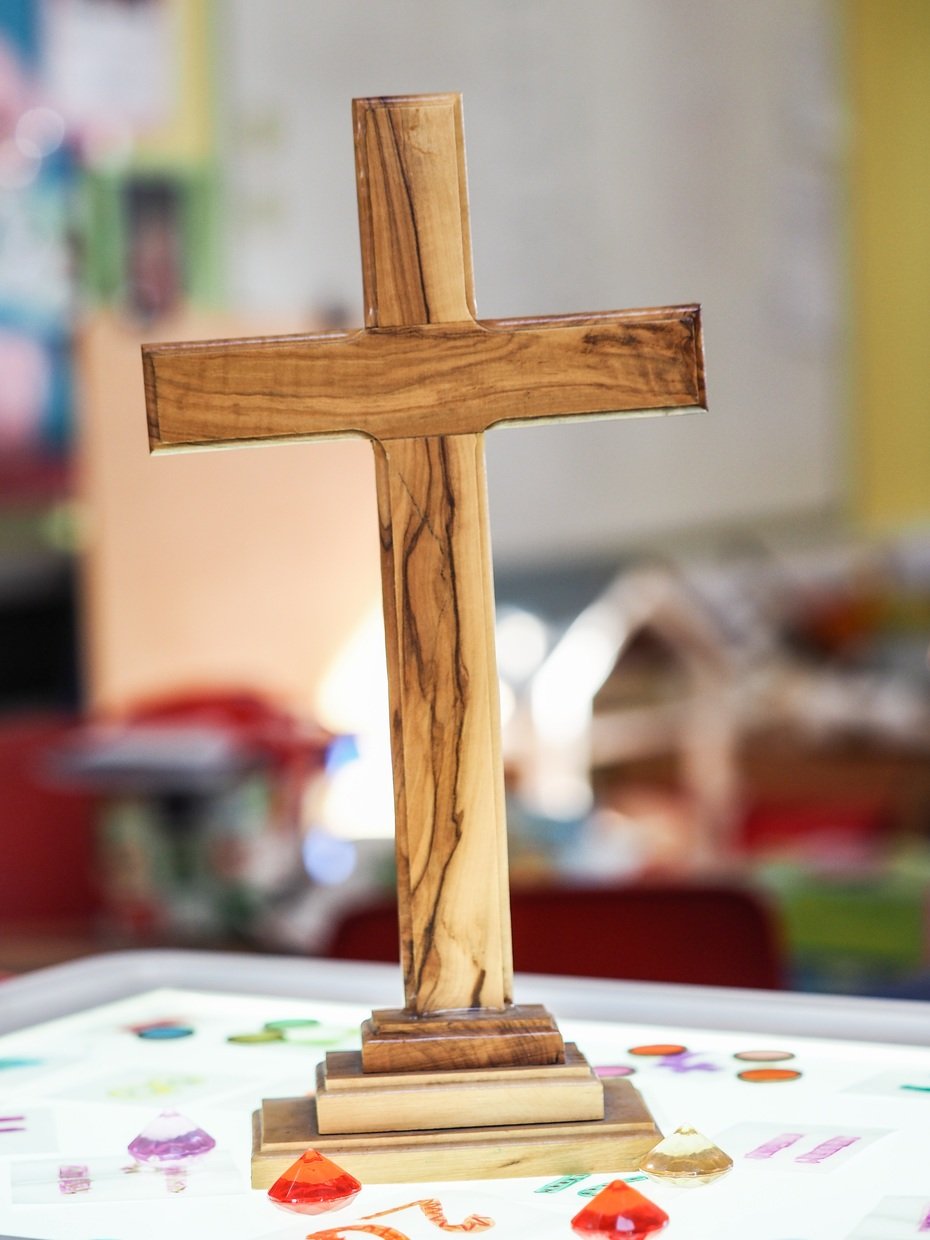 Christianity in our school;
As a church of England (Controlled) school, Christian Values are at the heart of our school, allowing pupils to worship, grow and develop in a secure, happy and creative environment.
As a church school we place great emphasis on learning to live the Christian ethos. Our weekly collective worship takes the following format:
Monday: whole school collective worship led by the Head Teacher.
Tuesday: alternate weeks –
'Open the Book' worship led by visitors from the church congregation

Whole class Collective Worship led by a class teacher
Wednesday: whole school worship with the Minister of The Baptist Chapel.
Thursday: collective worship is led by our Vicar (or representative
from the Parish Church).
Friday: Achievement Celebration – certificates, birthdays and awards from out of school activities. Parents, grandparents and friends are most welcome.
We learn about 1 of 12 core Christian Values each term through daily collective worship. Each month a church service is led by Mrs. Cook in the church and at the end of each term Reverend Alison leads Holy Communion Service in the church. On a daily basis, children attend a collective worship in the hall or in the classroom. Everyday, children say our school prayer in collective worship (written by children who attend Worship Workshop), as well as the Lord's Prayer, a lunchtime and end of day Prayer.
Each classroom has a cross displayed which is made up of small squares that have been created with their family at home, by each member of the class. The cross represents the child is also an important of their class and Billesdon C oF E school family.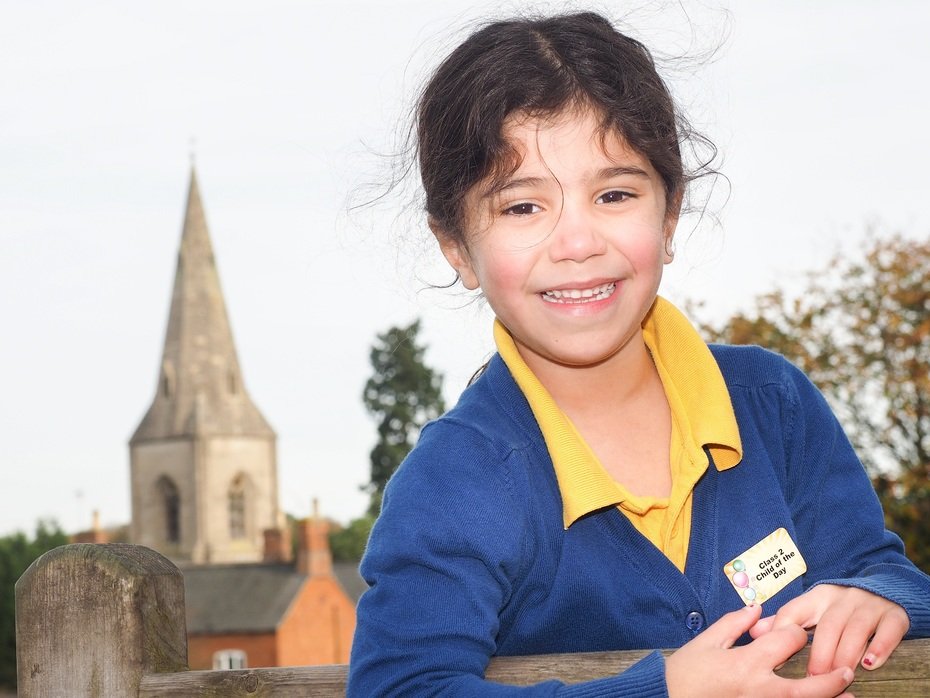 The school go to church to take part in different Christian celebrations such Harvest, Christingle, Christmas, Easter & Confirmation.
Each week Reverend Alison leads a lunchtime club called 'Worship Workshop' for older children. Worship Workshop begins with children lighting the candle and then passing round a holding cross to say a prayer about something that is important to them at that time. A bible story is then discussed whilst the children complete a craft activity linked to the story.
Children from Worship Workshop have the opportunity to attend Launde Abbey retreat each year in the summer for a one day, to explore a range of Christian led activities.
We are proud that our Christian ethos is truly 'lived' in the way children behave and approach school life. We asked the children to name each class and were delighted that the winning entry named the classes; 'Joy', Peace', Hope' and 'Faith'.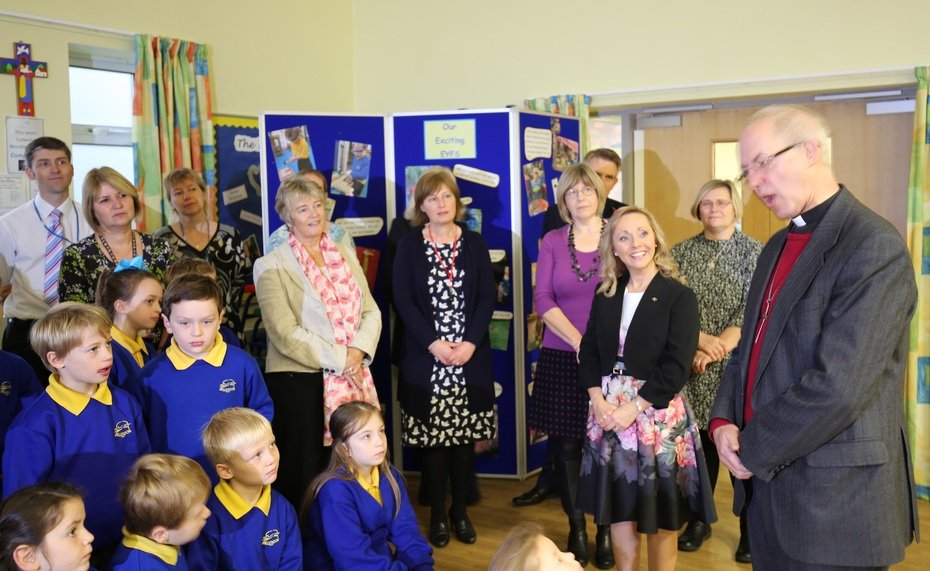 In November 2017 we were lucky enough to be visited by The Archbishop of Canterbury – Justin Welby.
On his arrival, Archbishop Justin spoke to parents and the local Billesdon residents who had gathered in front of the school, waving flags to welcome him. As Archbishop Justin entered the school, the thirty strong choir sang 'Behold, I make all things new' in two part harmony as he was lead to the hall by Head Teacher, Mrs. Cook. Archbishop Justin, Bishop Martyn Snow of Leicester and Carolyn Lewis the Leicestershire Diocesan Director of Education, went to meet children from our weekly 'Worship Workshop' group led by Reverend Alison. One of the children held the holding cross and said a prayer aloud for everyone taking part in the webinar. It was such a privilege to pray with the Archbishop.
Some children from class 4 then took part in a live webinar along with 22 other local schools about prayer. They enjoyed voting on polls throughout to select the questions that Archbishop Justin would be asked during the webinar and answered questions live during the webinar. The children who took part in the webinar were interviewed afterwards by Helen McCarthy from BBC Radio Leicester.
As he left our school, Archbishop Justin said "You have a really lovely school here". An endorsement we are very proud of.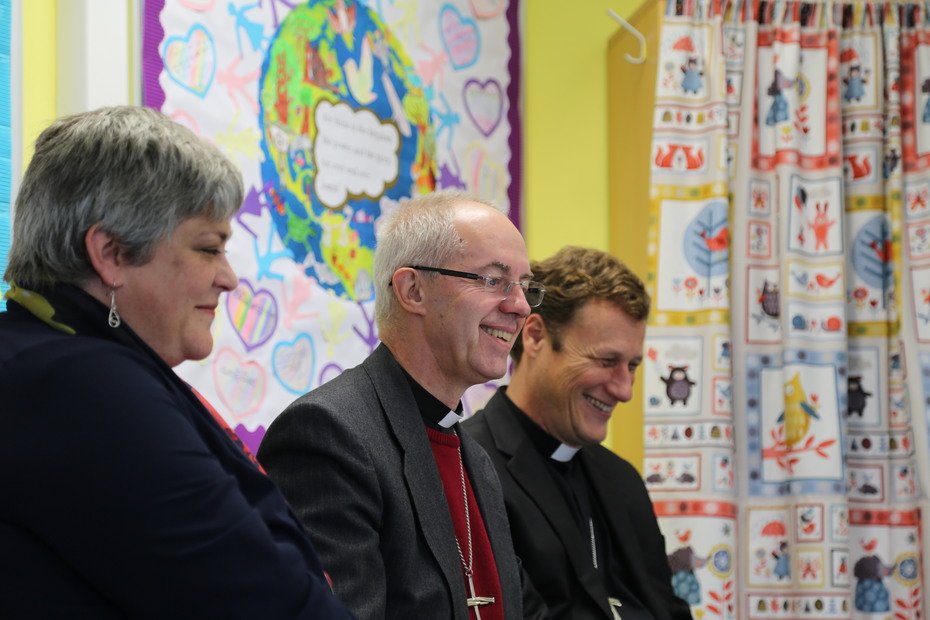 Community Involvement
We are proud to have close links with St John the Baptist Church in Billesdon, Billesdon Baptist Chapel and other local groups including Billesdon Wildlife Group and Sustainable Billesdon. We are proud to be part of local village events such as our school choir singing at the Harvest Supper.
We welcome local residents to enhance and enrich our curriculum. For example, a local resident came to speak to 'Faith' class about her uncle who was a soldier in the Coldstream guards in WW1. Looking at letters and postcards from him provided a valuable insight and stimulus for the English unit of work around Remembrance Day.
..
Worship Workshop Club
Every Thursday at 12.30 with Reverend Alison and Reverend Rosie.
Billesdon School Prayer (written by Worship Workshop Club)
God the Holy Trinity,
We thank you today, at Billesdon school, because you believe in us and help us to try our best.
Please help this school to move forward and progress.
Help our teachers to help us learn
Thank you for this wonderful world that we have
We think of those who are less fortunate than us and pray you will help them.
Thank you for our education and that you are with us every day.
Help us to always be close to you.
Amen.