Our Vision
At Billesdon C of E Primary School our vision is for each member of our school family to experience life in all its fullness both now and in the future. We are an inclusive welcoming community valuing everyone as a child of God for who they are and enabling all to flourish
'We are the children of God, the Holy Trinity. We learn to believe and believe to achieve'.
Romans 8.16 For the Holy Spirit speaks to us and tells our spirit that we are children of God. (New Life Version)
This was created by the children, during a Worship Workshop session with Reverend Alison. Click below to hear Nathan talk about how this happened.
Video of how our Vision was created.
Living our Vision
Our journey of faith begins with the Church of England's vision for education; 'Deeply Christian, with Jesus' promise of 'life in all its fullness' at its heart. - John 10:10' In line with the Church of England's role as the established Church, our vision is for the common good of the whole community. This vision embraces the spiritual, physical, intellectual, emotional, moral and social development of children and young people. The Church of England, as a whole, seeks a vision of human flourishing for all, one that embraces excellence and academic rigour, but sets them in a wider framework. This is worked out theologically and educationally through four basic elements, which permeate the vision:

We are educating for:
Wisdom, knowledge and skills: enabling discipline, confidence and delight in seeking wisdom and knowledge, and developing talents in all areas of life.
Hope and aspiration: enabling healing, repair and renewal, coping wisely when things go wrong, opening horizons and guiding people into ways of fulfilling them.
Community and living well together: a core focus on relationships, participation in communities and the qualities of character that enable people to flourish together.
Dignity and respect: the basic principle of respect for the value and preciousness of each person, treating each person as a unique individual of inherent worth.
As a Church school the deeply Christian foundation for this vision will be seen explicitly in teaching and learning both in RE and across the curriculum, and also in the authentically Christian worship and ethos.
At a local level, the vision of the Leicester Diocesan Board of Education is: "Transforming the lives of children and young people" .
Effective; As a result of visionary leadership and inspirational teaching, children and young people in the Diocese of Leicester achieve excellence. They are well-rounded and confident with a strong sense of self-worth. As learners transformed, they in turn transform their communities.
Distinctive; Unequivocally Christ-like, our schools offer children and young people the opportunity to hear the Christian response to life's big questions. Christian Worship is invitational, offering the whole school community an opportunity for renewal and to encounter the person of Jesus Christ. Religious Education is exemplary, enabling a genuine understanding of the role of faith and belief in modern society.
Rooted; Our schools are rooted in prayer, partnership with parish and wider community and the teachings of Jesus Christ. Children and young people receive excellent Religious Education equipping them with a firm knowledge of the Christian faith and other key faiths.
Inclusive; Like Jesus himself, our schools are 'scandalously inclusive'. Children and families from all faiths and none are welcomed, respected and cherished. Serving the community in which they are placed, our schools exemplify, 'love your neighbour'.
Our SIAMS team journey working on our Vision and Biblical Story;
Faith in Action
In 2018 / 19, Mrs. Cook was invited to give a talk to the Gaulby church group answering the question 'Do we need Faith schools in today's society?'. Below is a link to the presentation which shows 'Faith in Action' at our school.
'Faith in action at Billesdon'.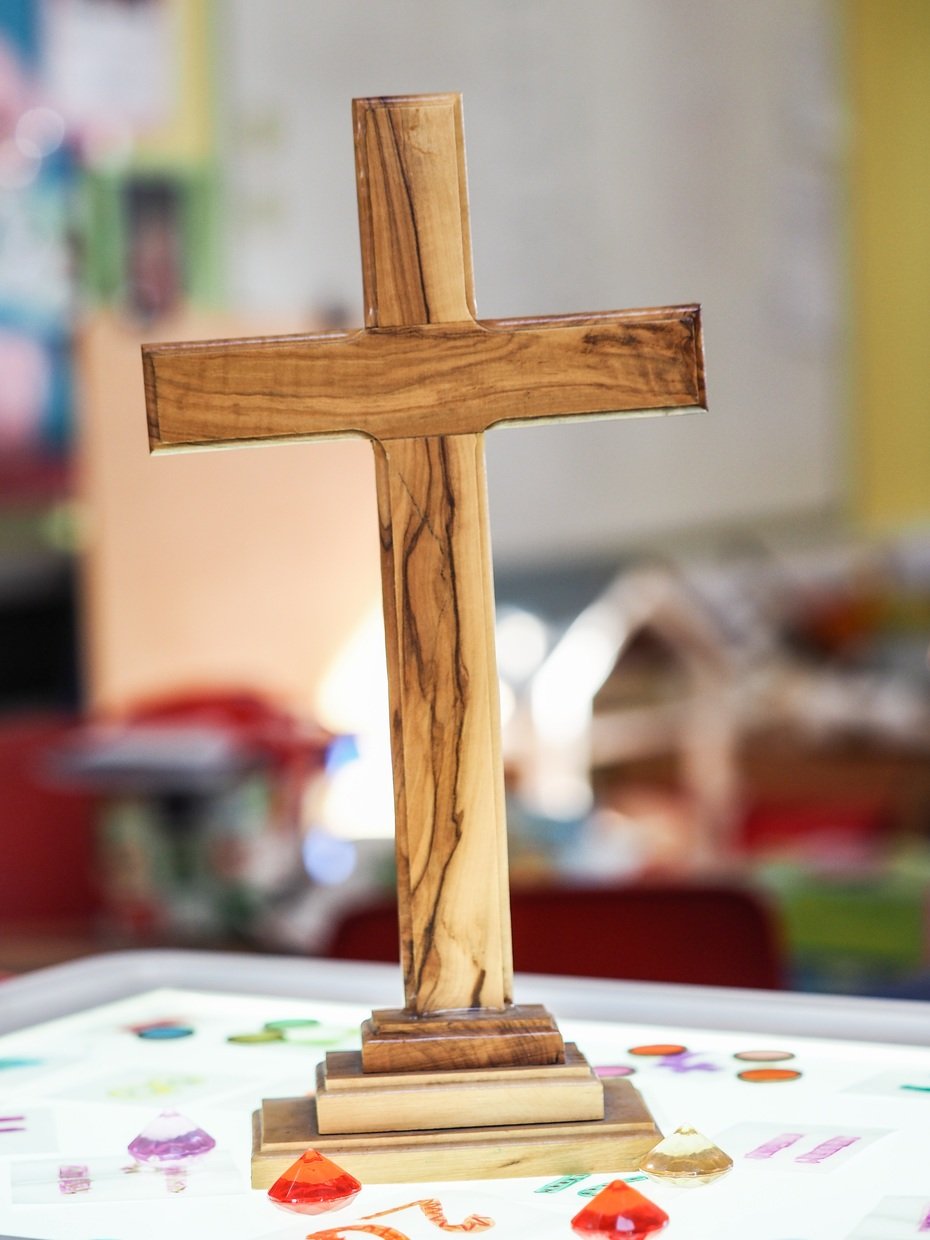 Christianity in our school
As a church of England (Controlled) school, Christian Values are at the heart of our school, allowing pupils to worship, grow and develop in a secure, happy and creative environment.
Collective Worship
As a church school we place great emphasis on learning to live the Christian ethos. Our weekly collective worship takes the following format:
Monday: 'Values for Life' whole school collective worship led by the Head Teacher.
Tuesday: alternate weeks –
'Open the Book' worship led by visitors from the church congregation

Key Stage Collective Worship led by a class teacher
Wednesday: whole school Collective Worship with the Minister of The Baptist Chapel.
Thursday: Collective Worship is led by our Vicar Reverend Alison (or representative from the Parish Church; Reverend Rosie, Reverend Jane or Keith Evans).
Friday: Achievement Celebration – Head Teacher Awards certificates, Writer and Mathmagician of the Week, Kindness Cup, Lining Up cup, Birthdays, Charity Work & Personal Achievements. Family and friends are all welcome to join us from 2.30-3pm in the school hall.
Once a term, House & Vice Captains lead a House Collective Worship which they prepare and deliver themselves, to all the children and staff members in their house.
We learn about 1 of 12 core Christian Values each half term through daily collective worship, on a 3 year cycle. At the end of each half term Reverend Alison leads a Holy Communion Service in the church, where the school worship with the local community.
Everyday, children say our school prayer in collective worship (written by children who attend Worship Workshop), as well as the Lord's Prayer, a lunchtime and end of day Prayer.
Billesdon School Prayer (written by Worship Workshop Club)
God the Holy Trinity,
We thank you today, at Billesdon school, because you believe in us and help us to try our best.
Please help this school to move forward and progress.
Help our teachers to help us learn
Thank you for this wonderful world that we have
We think of those who are less fortunate than us and pray you will help them.
Thank you for our education and that you are with us every day.
Help us to always be close to you.
Amen.
Each classroom has a wooden cross displayed which is presented by Mrs. Cook as a gift in the Autumn Term. Each class also has a 'Class Cross' which is made up of squares that have been created with their family at home, by each member of the class. The cross shows what is important to each individual and represents the child is also an important of their class and Billesdon C oF E school family, as well as their family at home.
Each class was also given a small wooden handling cross by Reverend Alison, following a suggestion request by a member of worship workshop.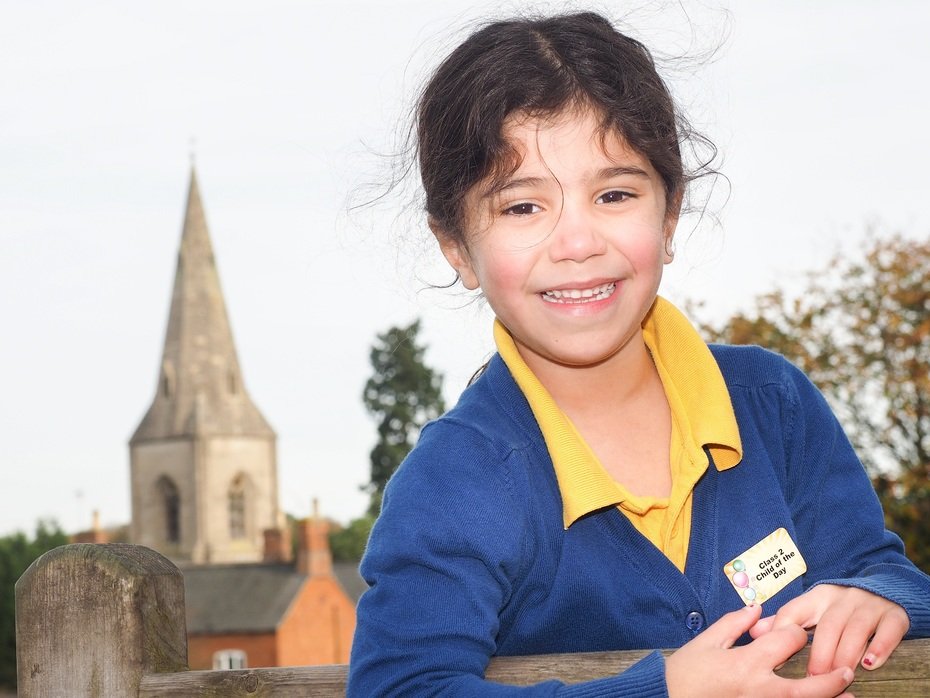 The school go to church to take part in different Christian celebrations such Harvest, Christingle, Christmas, Easter & Confirmation.
We are proud that our Christian ethos is truly 'lived' in the way children behave and approach school life. This was evident when we asked the children in 2018/19 to name each class. We were delighted that the winning entry named the classes; 'Joy', Peace', Hope' and 'Faith'.
Worship Workshop
Each week Reverend Alison leads a lunchtime club called 'Worship Workshop' for children. from Year 4-6. Worship Workshop begins with children lighting the candle and then passing round a holding cross to say a prayer about something that is important to them at that time. This can be said aloud or silently in their head. ending with 'Amen'. A bible story is then discussed whilst the children complete a craft activity linked to the story.
The children in Worship Workshop work with Reverend Alison and |Reverend Rosie to prepare special services such Holy Communion, Harvest, Easter and Christmas. They also play an active part in delivering the services.
Children from Worship Workshop have the opportunity to attend a Launde Abbey retreat each year in the summer term for a one day, to explore a range of Christian led activities.